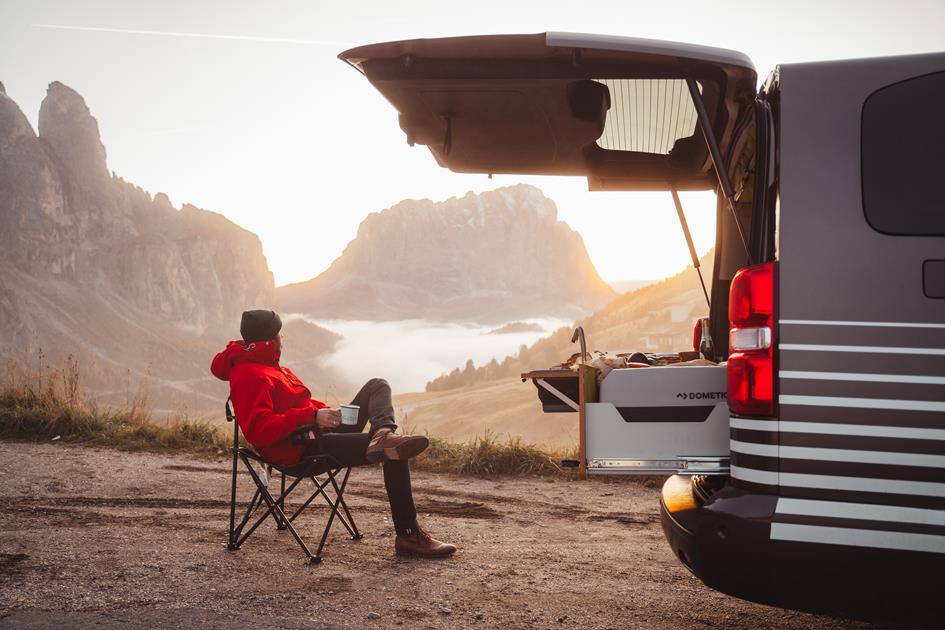 Going camping with SUV or MPV cars has been reality for many years. But to have a folded bedroom and a kitchen in the trunk of station wagons? Yes, that is possible with the conversion kit Nestboard by Egoé. Visit us at the exhibition Caravan Salon Düsseldorf which takes place from 26 August to 4 September and familiarize yourselves with the solutions for the most popular station wagon models and draw inspiration for the next season. You will find us in hall 14.
The biggest innovation of this year from the Czech manufacturer egoé also brings freedom of travel to owners of station wagons such as Škoda Octavia and Superb or Volkswagen Golf and Passat. The basic part of the Nestboard is the low extractable module which serves as a worktop with a sink and a cooker and can be used as a dining desk as well. The extractable kitchen module has a water bag with a pump.
An interesting feature are board games integrated on the underside of the worktop. The storage spaces are variable, the front can be made in black, blue or orange. Even after the installation of Nestboard, there is still some space in the trunk.
The camper conversion kits by Egoé are easy to affix by four standard anchor points without the need to perform any constructional or other adjustments in the car. They are just as easily removable. The conversion kits allow the travelers to use their car also for cooking and sleeping on mattresses and bed support frames which have been designed with several variants according to the type of car.
Whereas Nestboard has been developed for station wagons, the other conversion kit by Egoé - Nestbox – is suitable for most types of family cars. Travelers from many countries in Europe have been using Nestbox already for six years. Its updated version has space for a bigger refrigerator, the number of USB ports has been increased to four, and we have improved the cooker as well. Last but not least, the newest generation of Nestbox has gained an updated look and colors.
For more information, please visit www.egoe-nest.eu.