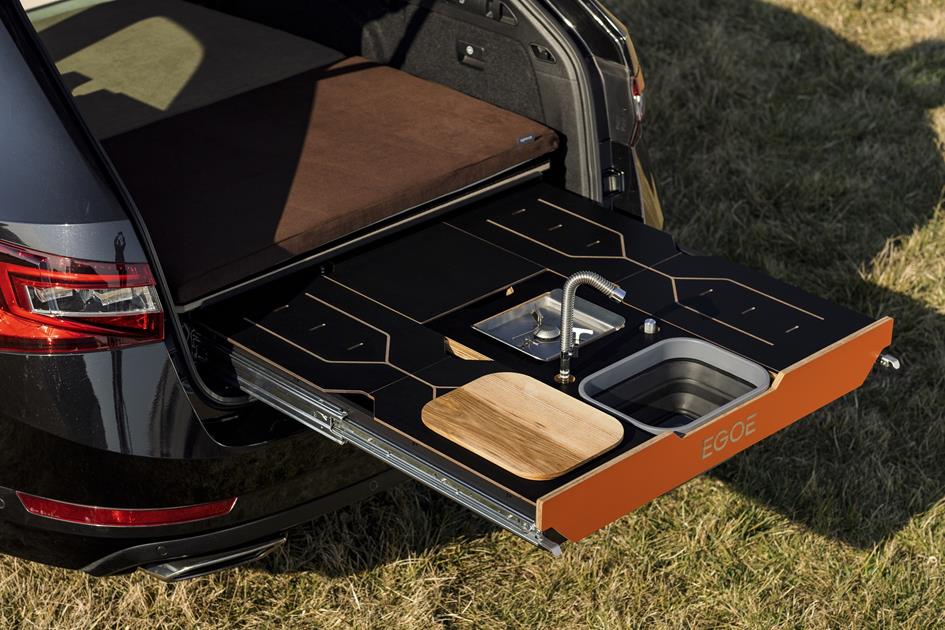 How to sleep properly in a car? How to cook? Where to put water? For these questions of owners of campervans, MPVs or SUVs, we have had an answer for many years. The freedom to travel wherever you want to go without a set destination can now be experienced even by the drivers of estate cars.
How to convert a standard car into a campervan? Moreover, within just a few minutes? The answer is brought by the presentation of Egoé at the For Caravan trade fair which has started today in Prague. We are introducing several innovations, the low conversion kit for estate cars being just one of them. Orders can be placed immediately.
The biggest innovation of this year is the conversion kit Nestboard which has been developed specifically for estate cars. And directly for the most popular ones like Škoda Octavia and Superb or Volkswagen Golf and Passat. The basic part is the low extractable module which serves as a worktop with a sink and a cooker but can be used as a dining desk as well. The extractable kitchen module has a water bag which can serve as a solar shower as well as board games at the bottom side of the worktop.
Visitors of the For Caravan trade fair can have a look at the updated version of our Nestbox Roamer. It takes the best from the first generation. Nestbox Roamer is easy to fix by four standard anchor points. The mattresses and bed support frames have been designed with several variants according to the type of the car. The mattresses are six centimetres high and consist of several layers. The bottom side is made from an easily washable slip resistant material, and can be, for example, laid onto grass.
Nestbox Roamer boasts cleverly designed storage space for a kitchen knife and a chopping board, textile bags for spice jars and many more practical features. The conversion kit gained several improvements for the upcoming travel season. It can hold a fridge with a volume of 25 litres, has four USB ports and an upgraded cooker. Orders for the new generation of Nestbox Roamer can also be placed immediately.
For those who need four sleeping places when travelling, Egoé is preparing a solution. It is a rooftop tent offering two sleeping spaces with a total width of 140 cm.