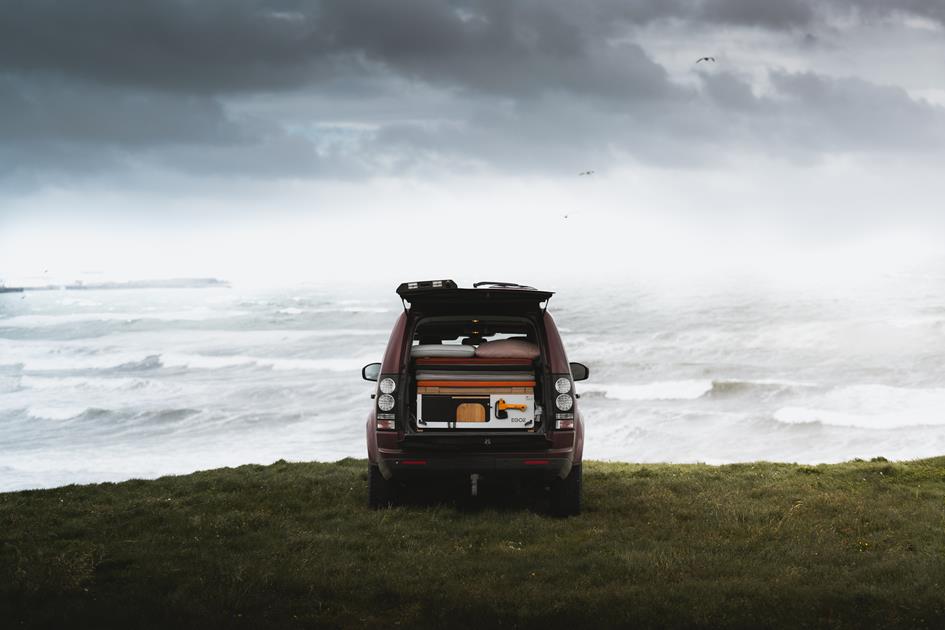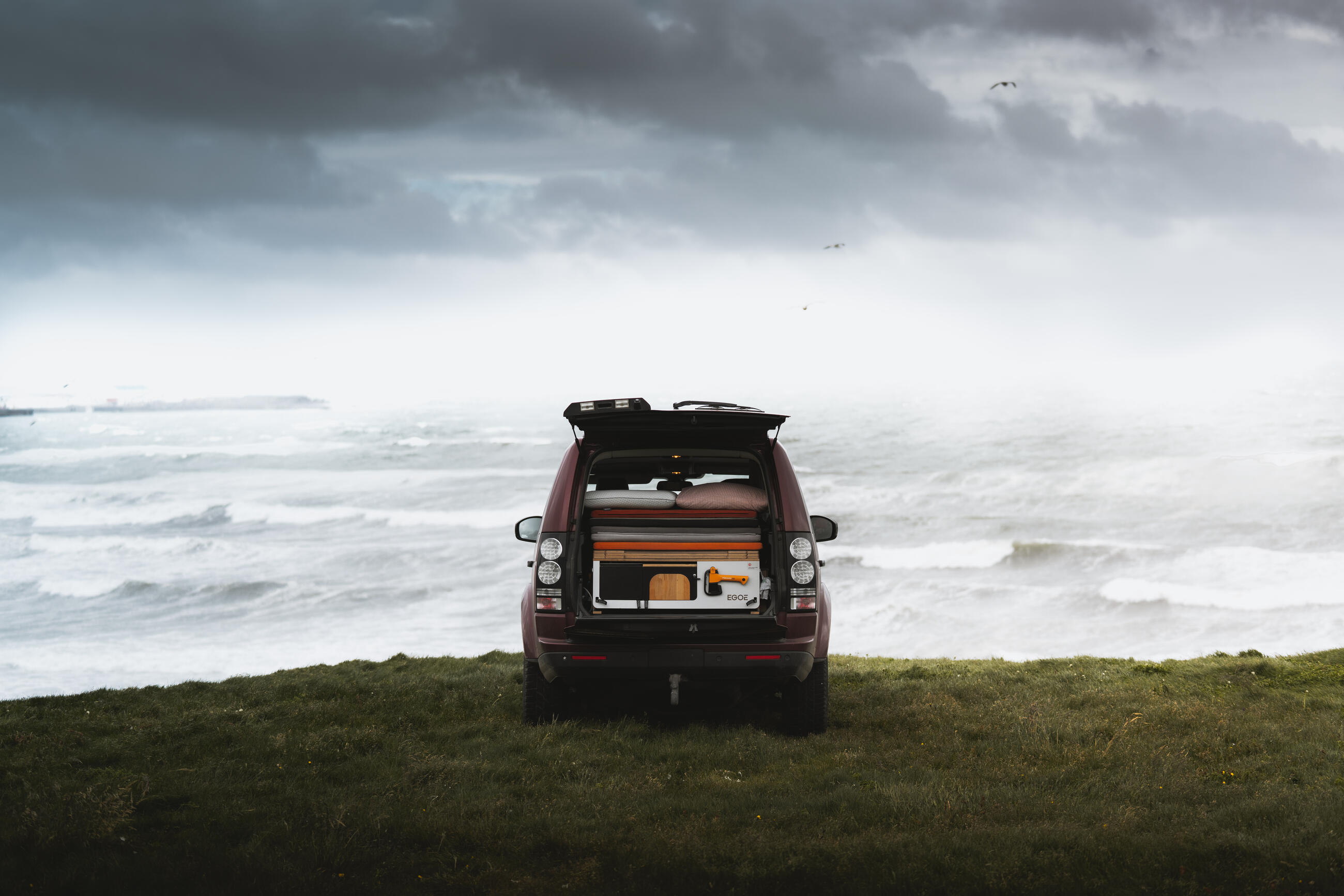 Photographer and influencer Daniel Stiborek comes from the Beskid Mountains and perhaps thanks to this, he has a unique eye for the mountains, landscapes and nature in general. On Instagram alone, ten thousand fans follow the photographs from his travels. He recently returned from a six-week trip to Iceland and the Faroe Islands, which he undertook in a Land Rover Discovery, equipped with the vehicle camping assembly Camper by Egoé.
Interview with Daniel Stiborek
Where did your first journey lead you to?

The first big trip I took was to Scotland. A friend and I rented a car and for two weeks we just rode around the Scottish countryside. Actually, it's only been two years, but since then I have traveled around quite extensively.

Was that the first time you traveled with a vehicle assembly?

No, I actually fashioned myself a wooden installation with which I normally travel. But I just headed out with the Egoé vehicle camping assembly for the first time.

How different from your own built-in installation?

It certainly provides greater comfort; in mine I don't have a shower or kitchen. And mine is not built as folding; it is fixed, so my bed in the car is always in the way.

Why did you decide to go to Iceland?

The country has always attracted me...its natural wonders are different than anywhere else in the world. The landscape is very diverse, changing every few kilometers, it's indescribable.

How did you get there with the Land Rover?

I drove to Denmark and then boarded a ferry to Iceland. Of course the ferry trek takes two nights. I then spent four weeks in Iceland and two weeks in the Faroe Islands. Everyone warned me that after Iceland, I'd be disappointed by the Faroe Islands, but that wasn't the case at all. The Faroe Islands are completely different, but also beautiful.

Did you travel alone?

The first two weeks my girlfriend was with me. Then a buddy of mine living in Iceland joined me, and over those next two weeks we traveled together.

Do you have any practical tips for traveling with the vehicle camping assembly around Iceland? Like what about being able to park somewhere and sleep? I know that rules differ greatly in various European countries.

Iceland generally prohibits free camping, so you can only sleep at an official campsite. But I slept in the camp only about once a week when I needed a shower. It's hard to find places to sleep outside the camps, because there is only one main road, Ring Road, leading around the country. It has almost no branches splitting off besides roads leading to farms. Also, there are no forests, so again there's nowhere to hide. But even so, nice places to stay can be found. I sometimes encountered police patrols along my travels, but they never gave me a hard time for sleeping in the vehicle.

How did your girlfriend handle such rugged travelling? Especially the shower once a week?

The great thing about Icelandic camps is that you can shower there without having to stay overnight. But it was cold during the day, five to ten degrees Celsius, so that was probably more difficult. I myself used the shower in the vehicle assembly only for the most basic hygiene. I admit that I pretty much misjudged the weather before the trip; I took along pairs of shorts that I never wore once. Especially in the interior it was bitter cold. But why search high and low for a shower and heating when you have the chance to crawl into one of Iceland's thermal pools? Or when I could sit for hours watching the bubbling ground caused by volcanic activity. I had never seen anything like it before.

Did you meet a lot of people?
Normally, numerous travelers congregate around Ring Road because along it lie the main tourist attractions, but maybe due to Covid-19 I was often out there completely alone. And inland I actually met almost no one. There you can be completely alone for days on end.

Did any of the locals converse with you?

Not really, the people there are not very open. It suited me though, I felt fine there. And when I needed something, everyone there speaks English, from children to seniors.

Did some unpleasant moment occur during the journey, did anything catch you off guard?

The weather there is perhaps a little harsh, once a strong storm came...I pretty much spent two days in the vehicle; it wasn't even possible to get out. That wasn't so swell :)

How did you deal with food? Did you use the stove?

Yes, I cooked often. While traveling I always switch to the mode where I don't need too much to eat, but when I do I'm glad to have a hot meal. I traveled low cost and had I not had a stove I might not have eaten at all. Otherwise, I was surprised that gasoline there was about as expensive as in our country. You can also shop in supermarkets for about the same prices. But of course services come at a much higher price.

Do you know where you're going next?

In a week or so I am going for a couple weeks to Central Bohemia and in October, I'll be taking a nice autumn tour: Austria, Switzerland and the Italian Dolomites.

Again with a vehicle camping installation?

Sure, either with this nice one or with my own. This Egoé vehicle camping assembly has one major advantage for me: I can stop anytime, anywhere and as a photographer, this is so important. My big thing is shooting sunrises and sunsets. When I stop over with the built-in installation, I can even sleep in the morning and move on. And of course, I will save on hotels.

But October traveling around Europe can hardly rival a trip around Iceland in terms of the weather.

Perhaps not. But to me that discomfort is actually fun.