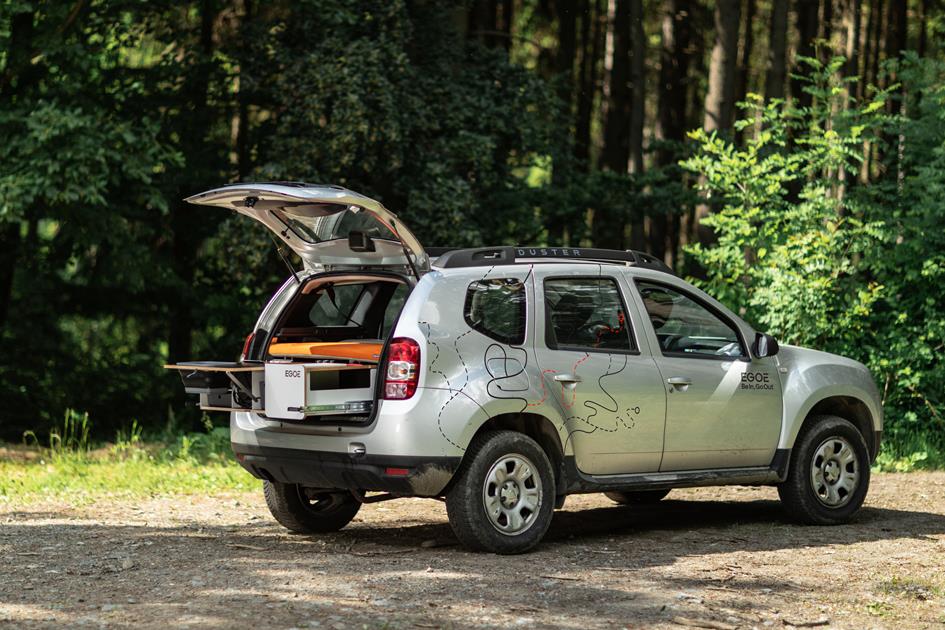 Nestbox Tramp is the smallest vehicle camping assembly for lovers of more rustic and down-to-earth forms of travel. Before the start of the domestic travel season, the ever-growing series of Nestbox products saw the addition of a newcomer, this time a compact variant. Introducing Nestbox Tramp.
Compared to its sister model, Nestbox Camper, the design was simplified and the basic body width was reduced to 95 cm, enabling it to fit into vehicles like the Dacia Duster or Jeep Wrangler. These diminutive dimensions were achieved for example by reducing the original stove size while retaining its advantages. The entire assembly can be removed and used separately outside the vehicle. The same can be done with the burner with gas cartridges, and e.g. packed along for a hike. The original space-demanding water source was replaced in Nestbox Tramp by a 15 l pressurized bag, controlled by a foot pump so it functions independently of electricity. The bag is removable and the crew can even use it as a shower.
The main body then contains storage space for food, which can be supplemented by a practical cool bag, and plastic drawers serve as additional storage space. It also comes equipped with an integrated cutting board and knife, and of course needed space for a mess tin and other necessities.
"The modern-day tramp doesn't long for some multi-star hotel, but he also doesn't necessarily need to spend the night under the stars or rainclouds with pine cones digging into his back. Rather than that, we believe trekking and hiking lovers will appreciate a comfortable sleeping surface on a mattress and flat bed frame to relieve a tired spine after so much exercise. So diminutive certainly doesn't translate to less comfortable," says designer Bob Novotny of Studio 519. The 95 x 195 cm bed frame is formed of individual, interlocking parts, so unfolding and folding the bed back up are done in a snap.
The result of the studio's efforts is a dimensionally economical vehicle assembly made from premium materials and guaranteeing the high quality to which Egoé customers are well accustomed. This product can please anyone who longs for camping in a normal passenger vehicle.
Come get to know the new Nestbox Tramp vehicle assembly at the Website https://www.egoe-nest.eu/en/tramp/